From BACH IN HAARLEM
Prelude and Fugue in e, BWV 584
Click here to purchase CD or download
[audio:01-Prelude_And_Fugue.mp3]
Liebster Jesu, wir sind hier BWV 731
[audio:02-Liebster_Jesu_Wir.mp3]
Toccata con fuga in d, BWV 565
[audio:04-Toccata_and_Fugue.mp3]
Fuga in g (the "Jig"), BWV 577
[audio:06-Fugue_In_G_Major.mp3]
From THE BRITISH ORGAN
Herbert Howells: Sarabande for the Morning of Easter
[audio:Saraband.mp3]
David Johnson: Trumpet Tune in A (MP3)
[audio:Trumpet_Tune.mp3]
Cary Ratcliff: Psalm 84 (MP3)
[audio:Psalm84.mp3]
From MENDELSSOHN: The Complete Organ Sonatas
Mendelssohn Organ Sonata #5
[audio:JD_mendelssohn_son5.mp3]
Mendelssohn: Organ Sonata 3, mov. 1 con moto maestoso
[audio:Mendelssohn_Son3.mp3]
From COSMOS CONSCIOUSNESS:
Transports de joie d'une åme:
[audio:transports_de_joie.mp3]
Les Enfants de Dieu:
[audio:les_enfants.mp3]
Joie et Clarté de Corps Glorieux:
[audio:Joie_et_Clarite.mp3]
From ROMANCE OF THE ORGAN
Reger: Introduction & Passacaglia:
[audio:Reger_Intro_to_Passacaglia.mp3]
Brahams Herzlich tut mich erfreuen:
[audio:Brahams_Herzlich101.mp3]
Merkel: Sonata in D minor (4 hands) Allegro con fuoco:
[audio:Merkel_Sonata_in_D_minor.mp3]
From FRENCH MASTERWORKS:
Dupré: Prelude & Fugue in B:
[audio:Dupre_PreludeFugue_in_B.mp3]
Langlais: Cantilene:
[audio:Langlais_Cantilene.mp3]
Langlais: Trumpet Tune:
[audio:Langlais_Trumpet_tune01.mp3]
(written for the organ at St. John the Divine and dedicated to the performer)
From BACH: CLAVIERÜBUNG III
Prelude in E Flat (Grauhof)
[audio:Bach_PreludeFugue_in_Eflat.mp3]
Christ, unser Herr, zum Jordan kam (Grauhof)
[audio:Bach_Christ_unser_Herr.mp3]
Christe, aller Welt Trost (Stade)
[audio:Christe_aller_welt_trost.mp3]
From THE BRITISH ORGAN
Bach: Clavierübung III, Schübler Chorales, Canonic Variations
Just Re-released!
2-CD Set
Recorded at:
Klosterkirche, Grauhof, Germany (Treutmann organ, 1737);
St. Wilhadi, Stade, Germany (Bielfeldt organ, 1736);
Arlesheim Cathedral, Switzerland (A. Silbermann organ, 1761)
1739 was an important year both for Leipzig and Lutheranism: it was the bicentenary of Luther's sermon at St. Thomas Church and also of the Augsburg Confession. Thus Bach went out of his way to stress some of the major liturgical components of Lutheranism in his third publication of "Keyboard Practice" (Clavierübung), the first to be dedicated to the organ rather than the harpsichord. …read more
$20 plus shipping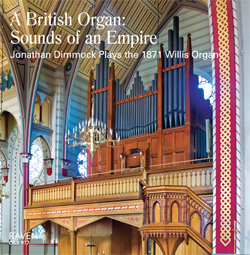 The British Organ: Sounds of an Empire
Herbert Howells: Saraband (for the morning of Easter)
Cary Ratcliff: Psalm 84
George Thalben-Ball: Elegy
David Johnson: Trumpet Tune in A
Herbert Howells: Master Tallis' Testament
Ralph Vaughan Williams: Rhosymedre
Edward Elgar: Sonata in G, movement 1
David Conte; Soliloquy
Herbert Howells: Psalm Prelude, Set 1, No. 1
Gerald near: Sarabande on "Land of Rest"
Gustav Holst: Jupiter Theme from "The Planets"
Frank Bridge: Adagio
Kenneth Leighton: Paean
Recorded on the 1871 "Father" Henry Willis Organ, located in Göteborg, Sweden
The British organ grew in power and fullness of tone as Queen Victoria's empire increased its domination of the 19th-century world. Leading the technical and tonal revolution of the British organ was Henry Willis, the "Father" of four generations of London organ builders. Music for concert hall and cathedral, parish church and town hall, were all swept along in the Victorian quests of greatness, cultural attainment, and broadening social ideals, effecting music composition and performance ever since. This is a rare example of a perfectly preserved "Father" Willis organ, rich in tone, and encompassing all emotions from gentleness to virility.
$15 plus shipping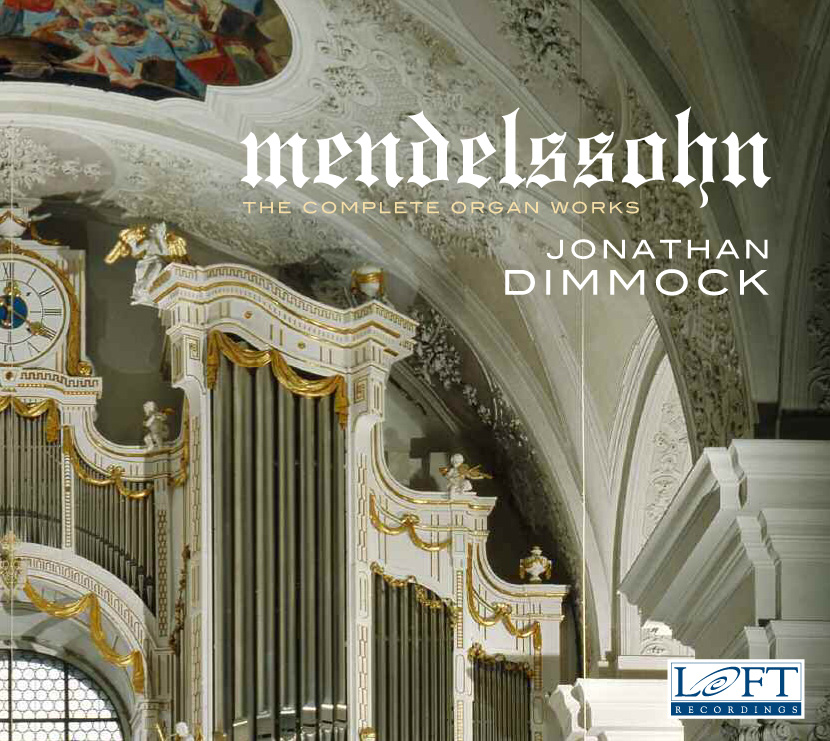 Mendelssohn: The Complete Organ Sonatas
The six organ sonatas of Felix Mendelssohn-Bartholdyrecorded at Weissenau Abbey, Bavaria on the Holzhay organ of 1787single CD, recorded in ULSI sound (Erik Sikkema, recording engineer)Read the reviews of this CD:
$15 plus shipping
Sweelinck: Master of the Dutch Renaissance
Sacred and Secular compositions of Sweelinck, Scheidemann, and Byrdrecorded on two Renaissance organs in Holland (Oosthuizen & Hattem); and the mean-tone organ at Orgryte Church in Göteborg, SwedenDouble-CD, recorded in ULSI Sound (Erik Sikkema, recording engineer)Read the reviews of this CD:
2-CD set $22 plus shipping
Messiaen: Cosmos Consciousness
Messiaen: Prélude, L'Ascension ("Transports de joie")
Les Corps Glorieux ("Joie et Clarté")
Le Banquet Céleste
Apparition de l'Eglise Eternelle
Livre d'Orgue ("Chants d'Oiseaux")
Méditations sur le Mystère de la Sainte Trinité ("Le Fils")
Offrande au Saint Sacrement
La Nativité du Seigneur ("Les Anges," "Les Enfants de Dieu," "Dieu parmi nous")
recorded on the Cavaillé-Coll organ at Notre-Dame d'Auteuil, Paris
single CD, recorded in ULSI sound (Erik Sikkema, recording engineer)
Read the reviews of this CD:
$15 plus shipping
French Masterworks from St. John the Divine
Dupré: Prelude and Fugue in B major
Gigout: Scherzo
Franck: Chorale in A minor
Messiaen: Messe de la Pentecôte (Communion & Sortie)
Dupré: Cortège et Litanie;
Widor: Symphonie V (Allegro vivace)
Langlais: Suite Brève (Cantilène); Trumpet Tune* (*World premiere recording by dedicatee)
Contains a 20-page booklet telling the history of the organ at St. John the Divine.
Recorded at the Cathedral Church of St. John the Divine, New York City;
May 11 & 12, 1987
E. M. Skinner organ, 1910 / 1953
Read the reviews of this CD set:
"One of the world's great instruments played by an exceptional musician!"
"The quality of the recording is high and the technique of the organist is as crafted as it comes. This is a solid recording of very interesting music, masterfully played in one of the finest locations to hear it."
"The definitive recording of the magnificent Aeolian-Skinner at St. John the Divine!
Dimmock shows the genius of tonal design with this instrument and uses the acoustics of the world's largest gothic cathedral to best advantage. Also includes the only piece which Langlais wrote for St. John the Divine's organ and its State Trumpet. The piece is dedicated to Mr. Dimmock."
$15 plus shipping
---
Ensemble Recordings
Bach: Cantatas 51, 54, 55 & 82
American Bach Soloists;
Koch 3-7106-2
Rated "Critics Choice for 1992" by Gramophone magazine
Bach: Cantatas 198, 156, 8
American Bach Soloists;
Koch 3-7163-2
Bach: Cantatas 140, 78, 80
American Bach Soloists;
Koch 3-7234-2
Bach: Cantatas for Holy Week
American Bach Soloists;
Koch 3-7235-2
Bach: Harpsichord concerto, Psalm 51:
American Bach Soloists;
Koch 3-7237-2
Bach: Cantatas 18, 12, 61
American Bach Soloists;
Koch 3-7332-2
Bach: St. Matthew Passion BWV 244;
American Bach Soloists;
Koch 3-7424-2 (3-CD set)
Haydn "Lord Nelson Mass"
American Bach Soloists;
Koch 3-7404-2
Shin Buddhist Gathas: Organ works, 1994; BCA Records
The Wedding Collection: Organ selections, 1994; Warner Music Discovery, Time Warner
Mozart: Mass in C minor; Bach: Magnificat; San Francisco Lyric Chorus, August 2001 (independently produced)
Duruflé: Requiem; San Francisco Lyric Chorus (independently produced)
Duruflé: Messe 'cum jubilo,' Veni Creator variations; Golden Gate Men's Chorus, Joseph Jennings, Director; recorded at St. Ignatius Church, San Francisco; GGMC 9053; 2002
The Organ: A Mirror of its Time; 1997 (2002); GOArt CD 001 (produced under the auspices of the European Commission ORSEV project – "The Organ as a Symbol of the European Vision")
Classics Live, vol. 1; Duruflé Requiem; The Pacific Mozart Ensemble; recorded on the Rosales organ at First Presbyterian Church, Oakland, CA
Ceremonies & Celebrations: From Northern Germany's Colossal Baroque; The San Francisco Bach Choir; SFBC2; 2002
Wedding Music Choices from St. Ignatius Church, San Francisco; 2002, (independently produced)
Bernstein & Britten: Chichester Psalms, Rejoice in the Lamb; recorded live April 1 & 2, 2005; San Francisco Choral Society, Robert Geary, Director; (independently produced)
Mahler: Symphony 8; San Francisco Symphony, Michael Tilson Thomas, Director; 2009 *
*Grammy Award Winner: Best Classical Recording of 2009